At our Practice, we provide Physiotherapy treatment for a broad range of conditions to people of all ages.
This includes conditions such as:
Back & Neck Pain
Rehabilitation following surgery
Ligament and muscle tears and strains
Tendon problems
Pre & Post Natal Care
Shoulder & Knee Pain
Physiotherapists are first-line practitioners, which means you don't need a referral from the doctor to come to see us. We also do home visits on request.
More Information on our Therapies
Rehabilitation
Rehabilitation is necessary after a variety of surgical procedures including shoulder, knee, hip, and ankle, spine (arthroscopies, Muscle and tendon repairs, spinal fusions exc.). Physiotherapy focus on decreasing pain, increase range of motion and strength, swelling and inflammation control, balance, coordination and recovery back to  full functional activities.
Dry Needling
As part of a larger treatment plan, the therapist uses dry needling to try release a trigger point in a skeletal muscle. This can reduce muscle tension and improve pain. A twitch can occur when the needle goes into a trigger point, which may be a sign that the therapy is working.
Some of the many conditions that dry needling can help:
Shoulder Pain

Headaches

Knee Pain

Achilles Tendonitis

Sciatica

Hip and Gluteal Pain
The McKenzie Method
Mechanical Diagnosis and Therapy (MDT) is an internationally researched and acclaimed system of assessment and management for spinal (neck and back) and extremity (shoulder, hip, knee, ankle exc.) musculoskeletal disorders. It has been widely used all over the world for more than 60 years.
Clinicians trained in the MDT system are able to assess and classify all complaints of the musculoskeletal system. An MDT clinician will identify what management strategy is best and outline a predicted recovery pathway.
Learn more about what the method involves https://mckenzieinstitute.org/
Laser Treatment
It is a non-invasive, pain-free light-based therapy. It stimulates ATP production, thereby accelerating the healing process. Infrared Light is used to target inflamed, injured, and diseased tissues. Compared to traditional treatment, patients recover from musculoskeletal and peripheral nerve injuries with less scar tissue formation, accelerated cell regeneration, and improved function.
Pathologies effectively treated:
Tendinopathies

Scar tissue

Wound healing

Breastfeeding mother with inflamed nipples
Sports Injuries
The first step towards recovery is getting an accurate diagnosis. This will lead to effective management of injuries resulting from sport. We work with numerous sport, at all levels – from "weekend warriors" through to our elite Provincial athletes.
Our team has comprehensive knowledge of biomechanics, tissue injury, and healing, allowing us to monitor your rehabilitation from injury through to your return to sport.
Common Injuries:
Hamstring strain
Ankle sprain
Shoulder muscle and tendon injuries
Heel pain
Calf strains
Overuse injuries
Focus is on speedy recovery, the correct optimal load strengthening and return to sport.
Pilates
Pilates is so beneficial to incorporate into physio treatment! It is a low-impact, full-body exercise regime that focuses on strengthening, stretching, and stabilizing your body. These core aspects are so important and effective in the treatment of multiple conditions, including lower back pain, as it emphasizes optimal "postural alignment, core strength, muscle balance, and even mental awareness. Pilates is named for its creator, Joseph Pilates, who developed the exercises in the 1920s."
Saskia qualified as a BASI Pilates Mat Instructor. BASI (Body Arts & Science International) is an astounding pilates institution in that it teaches the instructors to focus on exercises that "facilitates building sessions that are balanced, well-rounded, address all planes of movement and multiple muscle groups, and tailor exercises to the needs of each individual."
Saskia can construct a class "that suits the ability of each client without compromising on their specific needs or restrictions."
stom CSS to this text in the module Advanced settings.
Soft Tissue Release
The soft tissues of the body (muscle, tendon, fascia, and ligaments) are prone to acute and chronic injuries. This might be the result of overuse or incorrect movements. This leads to swelling, adhesions, and fibrosis of the tissues which often results in pain, loss of mobility, strength, and function.
STR is a hands-on manual therapy technique that is used to assess and treat this soft tissue. The therapist targets specific areas of tension within an individual muscle with the aim of removing scar tissue and adhesions to relieve muscular tension and pain. Sport STR is very effective to help with the recovery of tired and overused muscles, enabling athletes (cyclists, runners, triathletes, etc.) to perform on competitive levels.
Shockwave Therapy
This is excellent for the treatment of chronic pain and discomfort associated with degeneration and inflammation of the tendons, muscles, bones, joint capsules, and ligaments. The shockwave device generates high-frequency sound wave pulses that penetrate tissues.
This re-initiates the healing process. Using a properly selected wave transmitter, the physiotherapist can perform trigger point therapy, larger joints, or stimulate muscles. The shockwave hyperstimulates nerve endings and cell membranes to block pain signals, which brings immediate pain relief.
Pathologies effectively treated with Shockwave Therapy include:
Tennis and Golfers Elbow

Piriformis Syndrome

ITB Syndrome

Compartment Syndrome

Achilles tendinopathies
Pre and Post Natal Care
Having a baby changes the way your body functions. Sometimes our body needs a little guidance to manage some of the common pregnancy conditions, including low back pain, sacroiliac joint pain, caesarean scar management and breastfeeding.
We can help through manual therapy, soft tissue release, postural alignment and assisting with supportive and corrective exercises. Guidance can be given about sleeping positions, pelvic braces, and support.
Post-natal therapy includes manual therapy. Breastfeeding sometimes leads to mastitis and sore nipples, which can be effectively managed with ultrasound, laser therapy and supportive advice.
Yolande Boshoff physiotherapy is a driven but caring practice where we empower our patients to perform to the best of their abilities. We aim to optimise function, range of movement and provide pain relief.
Our committed team is passionate about physiotherapy and the wellbeing of all our patients. This, combined with the extensive skill set of experience and the latest technology, allows us to provide world-class physiotherapy with focus on the personal touch, right here in Pietermaritzburg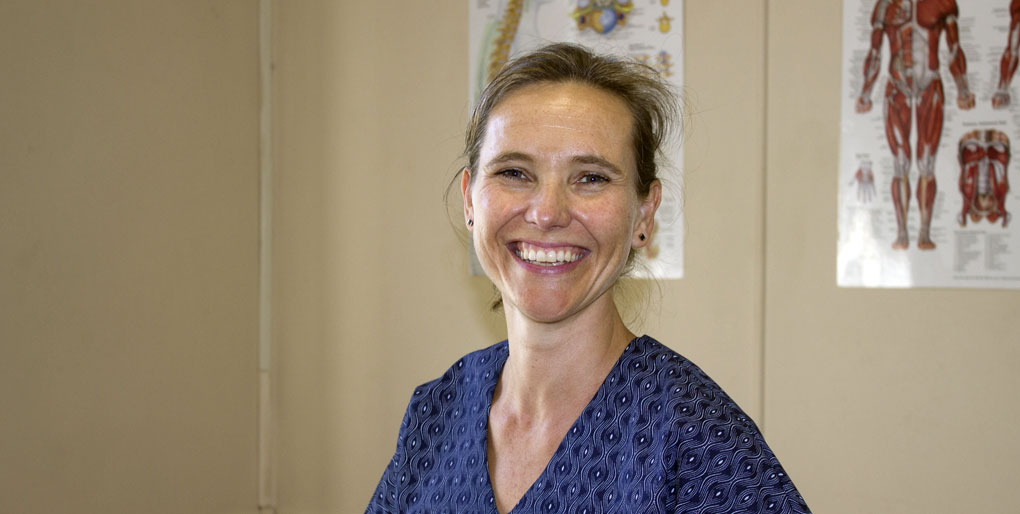 Yolande Boshoff
Registered Physiotherapist – B Physt – University of Pretoria
Yolande is a very passionate physiotherapist with 19 years of experience. Although she has extensive knowledge and experience in all physiotherapy modalities, Yolande particularly enjoys treating foot/ankle patients, sports injuries, and neck/back pathologies.
She is always energetic and gives all of herself to every patient. Yolande believes in the importance of continuous improvement and completed various additional courses, the most recent being the internationally acclaimed McKenzie Mechanic Diagnosis Qualification.
As a dynamic practice owner Yolande provides focussed leadership to the team.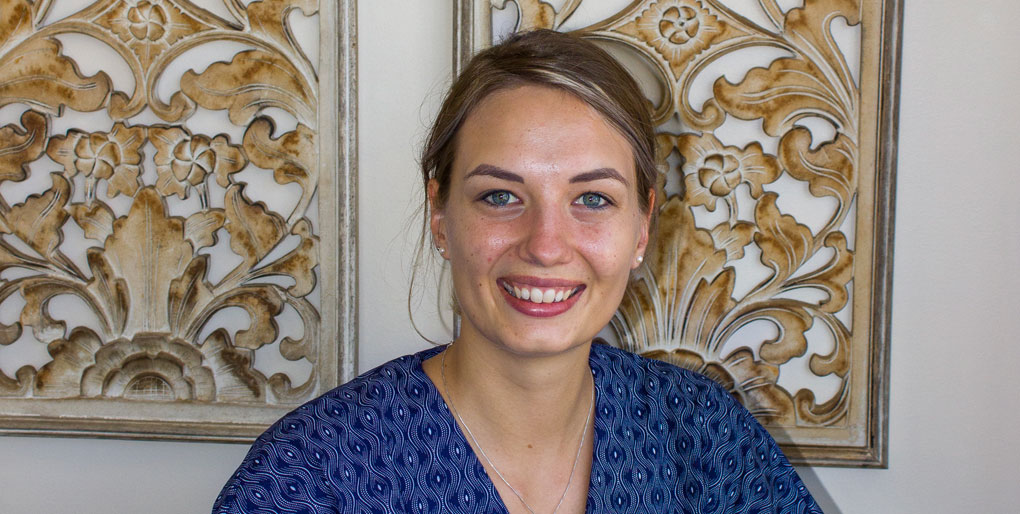 Saskia Bolt
Registered Physiotherapist – B Physt – University of KwaZulu-Natal
As the newest addition to our team, Saskia brings with her a new and vibrant dynamic to the practice. With 4 years' experience and her qualification as a BASI Pilates Instructor, she is a valuable addition to the team.
Saskia has completed various complementary courses including Dry Needling, Shockwave Therapy, and Sports Injuries.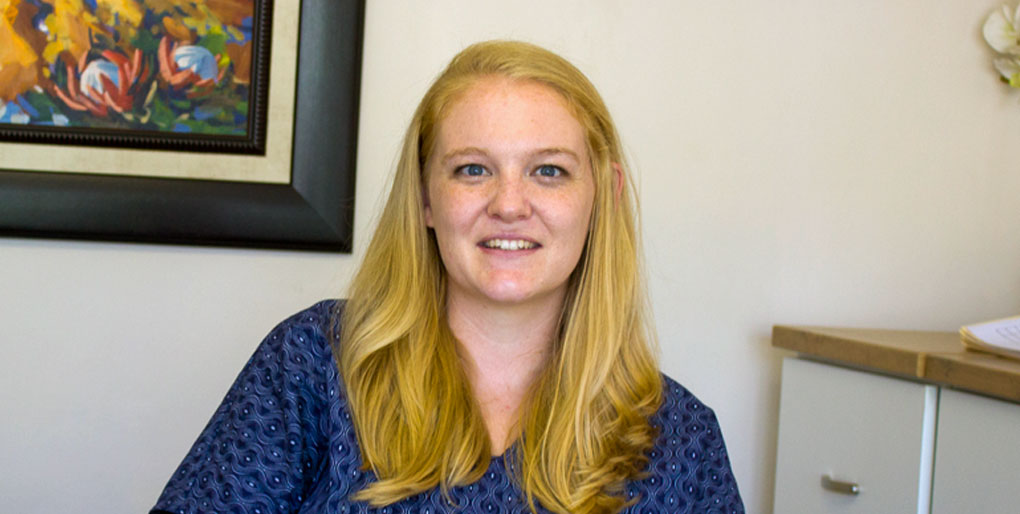 Corne Appel
B Com Honours in General Business Management – University of the Free State
Corne is not only the helpful voice on the line, or the friendly face when you enter the door, but also forms the operational and administrative backbone of our Practice. She is an integral part of the team and keeps us energized and caffeinated, especially on those long and busy days.
Corne drives our programme to enter the digital age of Social Media, solves problems swiftly, and ensures that everything runs smoothly for a pleasant, hassle-free visit to the practice.
I recommend Yolande Boshoff, she takes the time to LISTEN with understanding then starts with the required treatment. I have been suffering with chronic chest and back pain for just over four years due to trauma caused to my chest in 2017. I started Physio in late Jan 2021 and for the first time in 4 years I have pain free days. She is not only exceptionally knowledgeable but also extremely professional and empathetic
The most pleasant and caring kind of people, from the receptionist to the therapists. Physio has given me back my mojo for which I am eternally grateful to Saskia Bolt.
As I've aged and have never exercised before, I've found it increasingly difficult to keep my balance while doing something as simple as walking across uneven ground. After doing pilates with Saskia for only 3 months, I am starting to feel more stable and stronger, and therefore more confident. I look forward to doing Pilates for a very long time to come! Thanks, Saskia!
The most friendly group of people. From reception to the Physiotherapists. You guys have such big hearts & do so much good. Love you guys xxxx
Office
35 Blackburrow Rd, Hayfields, Pietermaritzburg, 3201
Monday to Thursday: 8 am – 4:30 pm